On Wednesday 15th July, we had the wonderful opportunity to celebrate and congratulate our transitioning Year 6 leavers. This event is usually held in St Michael's church with friends and family in attendance. However, due to the current health crisis, we had to change our approach but not our celebration of these amazing children.
We involved the lovely Year 6 parents, who had to come and collect the items for their children before the service and keep them hidden before the event.
Each child received a medal and a certificate of appreciation. The heads and deputies, as well as the prayer leaders, received a personalised token from the school for their hard work and dedication in representing us so well.
The children also received a year book with special messages to each other and messages from Ms Gouws and the Year 6 teaching team. Thank you to Mrs Leslie for organising this – it is a beautiful memento of their final year in primary school.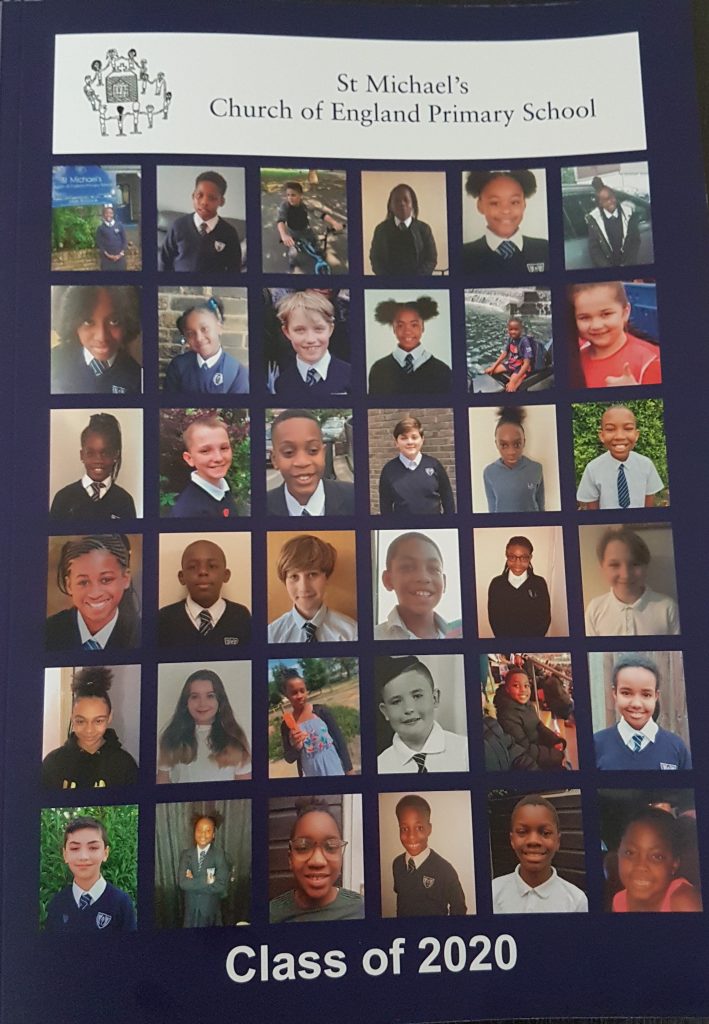 Teachers , who would usually be seated in the church to mark this occasion, joined via Zoom to show their encouragement. We asked the adults of St Michael's, if they had one wish for the children in Year 6, what that wish would be.
If there is one wish i have for the children in year 6, my wish would be that…
… you all have lots of love and luck as you go forward and make new memories. I have some lovely memories of you all in the infants when you were Emerald and Sapphire classes. Ms Jeffery
…you continue being the best you can be. I hope you continue to make a positive impact in your new school. It was a strange and tough year, but you did it. Now you know how strong and resilient you are. Never let anyone tell you any different! I will always remember you guys! Mrs Obels
… you keep trying your best, be positive, be kind and keep smiling! Mrs Gayle
… you have hope, strength and belief in yourselves – you are such amazing young people who have given us so much joy over the years. Keep rising to the challenges ahead and be proud of your achievements along the way. Mrs Leo-Kelly
… you shine. Believe, that you are now prepared to start on this next important journey in your life. Remember to keep smiling. Ms Colling
… you always give 100% effort into everything you do so you will succeed in what you love to do! Best of luck to you all, you will be greatly missed! Miss Aldridge
… no matter how hard it gets, you never give up on your dreams. If you can dream it, you can do it! For with God nothing shall be impossible. Luke 1:37 Ms Matthews
…you be as successful as you want to be and to enjoy every minute of your future – there will be no stopping you! Missing you already. Ms Brailey
…as you face the future, you may know that St Michael's really cared for and prepared you well. Mrs Kajubi